Bryher Campsite is a traditional, friendly campsite where you can truly kick back, relax and get away from it all.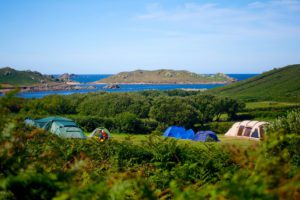 Nestled in a sheltered valley on the remote island of Bryher with stunning panoramic sea views, Bryher Campsite is the perfect base from which to explore the beautiful Isles of Scilly.
With five camping fields even in the height of summer there remains a wonderful sense of space – and you're free to pick your own pitch, whether you want to overlook Tresco Channel or the Atlantic, pitch next to your friends, or find a little corner all to yourself. The games field provides somewhere for the young ones to let off steam and meet other children.
Bryher Campsite is run by Jo and Tom, with Tom's parents Pat and David helping out around the site. Jo is Bryher born and bred, whilst Tom, Pat and David have been visiting Bryher for the past 25 years.
The site was started by Bert Stedeford in the 1950s and was under the stewardship of Kathy Stedeford for nearly 50 years. When Kathy retired, she wanted to pass the site on to somebody who would care for it in the same way she has, and that's our plan!
Facilities
Bryher Campsite offers traditional camping, but we pride ourselves on providing excellent, clean and modern facilities.
Ladies' facilities:
3 toilets
3 hand basins
2 showers (token operated)
Hairdryer (20p coin)
Hand dryer
Gents' Facilities
2 toilets & 2 urinals
3 hand basins
2 showers (token operated)
Shaver point
Hand dryer
As Bryher is a small island it's important to look after our fresh water supply so the showers are token-operated. Tokens cost 50p for five minutes and the cost of the tokens will be added to your bill.
There is an undercover washing up area and a separate laundry area with washing machine (3 x £1 coins) and tumble dryer (50p coin). There are two deep freezes for cold packs; any items left in these freezers are at your own risk.
We have a secure area for charging mobile phones and other small electronic devices, although all items are left at your own risk. This facility is free, though a donation in the Cornwall Air Ambulance box would be appreciated!
Our Season
In 2016 Bryher Campsite will be open from 19th March – 31st October.
Booking is essential in July and August, and also the Whitsun Half Term week, although we always advise booking in advance to avoid disappointment.
To make a booking enquiry, just fill in our Booking Enquiry Form.
Camping Supplies
We stock a range of camping supplies, including:
Paraffin, Methylated Spirit and Lead-Free Petrol (you need to provide your own containers)
Camping Gaz: 206, 270 & 470
Epi Gas: 250 & 500
Camping Gaz: 904 & 907 (exchange only)
Propane twin pack
Calor Gas: 4.5 (exchange only)
Epi Gas Mantles
Pegging rubbers
CP250 cartridges
Bryher Shop also stocks camping equipment such as pegs, guy ropes, tin openers etc.
Groups
We welcome groups including schools, Scouts, companies and activity groups, but please call us on 01720 422068 or email us for details and to discuss your needs.
Dogs
Sorry but we do not allow dogs (or other animals!) on the campsite.
Frequently Asked Questions
Below are some of our frequently asked questions, but if you have any other queries, please call us on 01720 422068 or email us.